Notary Association of America® Membership
The Notary Association of America® (NAA) offers a wide range of benefits that we hand curated to ensure our members' success. We strive to provide notary professionals with the resources and expertise they need to excel in their careers and fulfill their responsibilities as vital public officials.
Our goal is to build a community of notaries that embodies the integrity, authority, and respect that the office of notary public represents. To achieve this, we are committed to building professional bonds through education, advice, and support.
Why Join the NAA?
With the resources and expertise of the NAA behind you, excellence lies ahead. We empower our members with an impressive set of benefits that will keep you informed and make your job easier.
Expert Advice from Our Notary Professionals
If you're struggling with a challenging issue or have questions about your duties as a notary, we're just a toll-free phone call away. NAA members can contact our notary professionals for expert guidance on a variety of topics.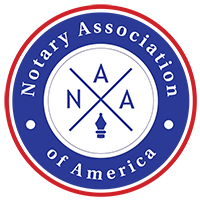 Discounts on Notary Supplies
When it's time to replace your notary supplies, turn to the NAA for high-quality products at a low price. We offer members a 10 percent discount on essential notary supplies, including stamps, journals, embossers, and gold foil seals.
Educational Resources and Online Training
Our Notary Education Packet and quarterly newsletter are filled with valuable information on notarial topics. You'll find tips on how to prevent fraud, protect yourself from lawsuits, keep a notary journal, and more. We also provide online notary training, including an advanced course to train you to become a certified signing agent.
New members will also receive:
A frameable Creed of Integrity
A notary public sign
Customized Membership Card
State Handbook
Enroll for Two Years or More for Added Savings
You can access the Notary Association of America's® benefits after purchasing a one-year membership for the low price of $49. However, enrolling for a full-term membership will save you money on membership dues — plus you can enroll in our online education courses at no cost. Refresh your knowledge with a class on notary basics or boost your earning potential by getting certified as a notary signing agent.
NAA Membership Pricing
One-year membership: $49
Full-term membership: $99